The musical compositions of Richard Burdick
Follow on Twitter
Opus 56
Horn Concerto No. 1
for Horn with Strings, and one percussionist (timpani & marimba)
And Opus 56a for solo horn with symphonic band.
The second movement has a short quote of Mozart, the strings laugh at the horn player and make fun of the soloist, humorous.
opus 56 Orchestra version: Premiered Feb. 12, 1991, in Berkeley, Bay Area. Concerto Ensemble.
opus 56b: Premiered by Oakland Municipal Band, summer 1991
This concerto was written during the Summer and early fall of 1990 during my transition from a semi-professional to a full time musician in the Sacramento Symphony. I believe each movement contains two different scales from my I -Ching scale system.
The first movement is my favorite theoretically because I stuck to my interval game technique; limiting myself to melodic major & minor thirds and perfect fourths with an in-passing rule where I could go through the previous tone to an acceptable interval on the other side making big leaps possible. This movement also contains some easier multi-phonic chords for the solo horn.
The first three tones of the second movement are the three that don't belong to the two scales used, which is developed as the theme. The trio alternates from twelve tones to a repetitive pattern of a similar nature to the twelve tones row. The trio also has a humorous quote from Mozart, and was written to show off the soloists high register.
The third movement may not be complete. It is a short slow movement with a melodic quote from Schumann.
The Fourth movement is in a traditional hunting 6/8 rhythm and was written to show off the soloists trilling capability; one of the harder techniques for the average horn player.
Richard Burdick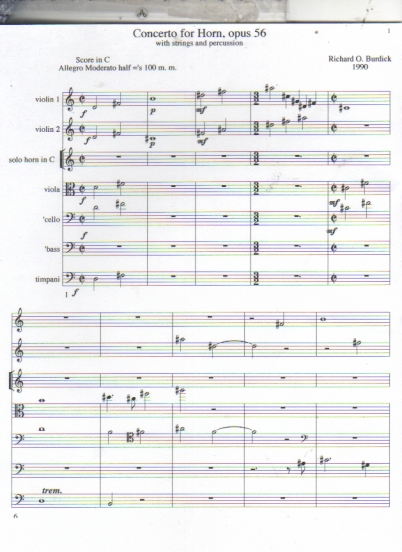 You can find the horn aprt on IMSLP
The Full set of Parts and score can be purchased here: