CD34
Natural Horn Music FOUND
Wonderful classical music by recently rediscover composers of the 19th Century performed on the natural horn in a multi-track recording of Trios and Quartets.
Thanks to the World Wide Web and all who are following their passion and creating this amazing reference, with the online music library of public domain material: IMSLP a number of works have co

me to my attention from moderately obscure composers which I'm happy to present here.
When I first downloaded the Du Puy in around 2010, it wasn't known who this person was. Now as I finalize this recording a second work has been added which I added to the end of the CD, the quartetto, and a picture and biography of Du Puy have been added to the site.
Not much is known about Comte de Champigny, and in my Web search about him I came up with only genealogy possibilities. Based on his style, I would assume that his music is from the 1830s or 40s.
The Javault Was published around 1821, and is for horns in different keys. a composer writing for horns in different keys to me seems like a monumental task. It is a process of fitting melodies to the harmonic series of each key, which is the open tones of a horn and interweaving the different keys to make melodies and accompaniments.
As I type these notes, I have been magically given a two line biography of Johann Peter Heuschekel (4 January 1773, Harras near Eisfeld – 5 December 1853, BiebRichard), was a German, oboist, organist, music teacher and composer. From 1792 Heuschkel was oboist and later also organist in Hildburghausen. He is best remembered for being the teacher of Carl Maria von Weber (1796) . In 1818 he became court music teacher at BiebRichard. As a composer, Heuschkel wrote mostly wind music, oboe concertos, piano sonatas, and songs.
$11.50 Including Shipping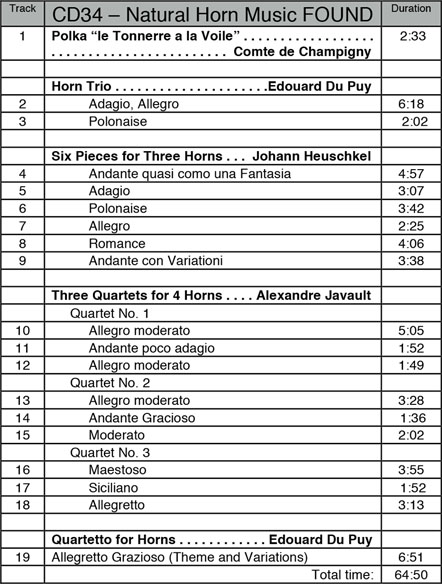 Release date: February 11, 2013
$11.50 Including Shipping