Richard O. Burdick, biographies
Solo recital from 2007 with Dora Burdick, piano

SHORT BIO for use in programs and publicity:
(188 words):
Richard Burdick
has been the first horn for
Regina Symphony Orchestra
since 2003, when he moved to Regina from Northern California.
He worked full-time for Sacramento Symphony in the 1990's, and was principal horn for Napa Symphony in the late 1980's. He has been a member of the Music in the Mountains Summer festival orchestra in Grass Valley California since 1993 and acting principal since 2016. He has performed concerti by Burdick, Haydn, Mozart, Quantz, Strauss and Telemann.
Mr. Burdick's primary focus is horn performance, but is also an active composer. His compositions are often based on scales suggested by the patterns of the I Ching. He works in a number of different styles from neo-classical, microtonal, meditative, and post-avant-garde. Music with video is an important part of his prolific yield.
Richard is an active recording artist who records his own works and a variety of authentic-practice classical works (natural horn), and horn ensemble works.
He has also done many music related jobs such as arranger for Sacramento Symphony, librarian and personal manager for Sacramento Philharmonic, and manager of Trinity Chamber Concerts (chamber music series) in Berkeley, California for 19 years starting in 1984.

FULL BIO (or see wiki)
Richard Burdick is the first horn of Regina Symphony Orchestra and the Regina Symphony Chamber Players in Regina, Saskatchewan, Canada. He is a prolific composer.
His move to Canada in 2003, with his wife Rebecca and his two boys, marked the start of the fourth major period in his musical Career.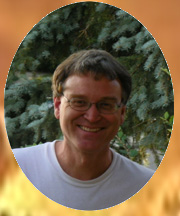 In the 1980's Richard was first Horn of Napa Symphony, a member of a San Francisco based theater orchestra and played lots of chamber music as manager of Trinity Chamber Concerts, a chamber music series in Berkeley California.
Starting in 1990 he played fourth Horn full-time for Sacramento Symphony, which went bankrupt in 1996.
He then won auditions for Fresno Philharmonic, Napa & North State Symphonies and played in Sacramento Philharmonic & Opera.
He is a prolific composer and has many self produced CD's of his own compositions, Bach, his classical natural horn playing and multi-track performances of many of his favorites pieces.
He performs on a variety of horns, a baroque natural horn (1720), a classical era natural horn(1800), a romantic era (1840's) natural horn, a single F horn from the 1880's, his main symphony horn is a Brendan Model Finke triple horn.

Composer Richard O. Burdick:
Richard Burdick is a prolific composer of chamber and orchestral music. He has a large volume of works for chamber music settings and concert halls, including a growing number of works for live musicians with video.
He frequently uses the I Ching as a structural foundation to his music.
His works vary from quite tonal to improvisational and avant-garde. They also range from minimal to quite random. He has written minimal styles both in the highly sustained and highly repetitive types. His works are very creative, but often have forms and structures that Bach used.
His variety of works fall into the categories of: avant-garde, expressionist, minimalistic, micro-tonal, modernist, neo-classical, and new-age-meditation styles.
His use of harmonies is generally freer and is freeing to listen to. He is developing a New-age-meditation style of music based on the vibratory spectrum of sound.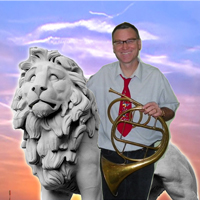 Since 1980, composer Richard Burdick has been using I Ching inspired scales as a foundation for his compositions. The I Ching is sort of a fortune telling system of the ancient Chinese. Being a binary system, it suggests scale intervals of either half steps or whole steps. It is ideal for scales structures and patterns in music.
Like the scales of Northern India, the scales are divided into two tetra-chord like sets of three intervals. Mr. Burdick uses the perfect fifth to separate the two sets of three intervals. He also has a complete system of fixed tones for each scale that organize the whole system into 64 unique vibratory signatures.
Richard has worked professionally as a transcriber and/or arranger for the Sacramento Symphony, Concord Pavilion Pops Orchestra and others. He has been a recipient of Meet The Composer funding, Concert sponsorship funding from the city of Davis, California, and was the winner of the 1983 Kensington Symphony Composition Contest with his "Six Medieval Fragments for Orchestra, opus 14."
Mr. Burdick began composing in 1975 and has had premieres of most of his compositions.

Richard's Artistic statement is:

Richard BURDICK IS A COMPOSER
WHO EXPLORES THE NATURE OF ARTIFICIAL SCALES
Mr. Burdick identifies as an American/Canadian; part of the American "melting pot" with a long family history on the North American continent including some Native American. (see also: Benjamin Burdick)
A great article about Mr. Burdick appeared October 2010 on Buzzcity.ca
http://buzzcity.ca/October2010.html

He was one of the featured October 2011 composers at:
http://www.pytheasmusic.org/burdick.html
See also: Reviews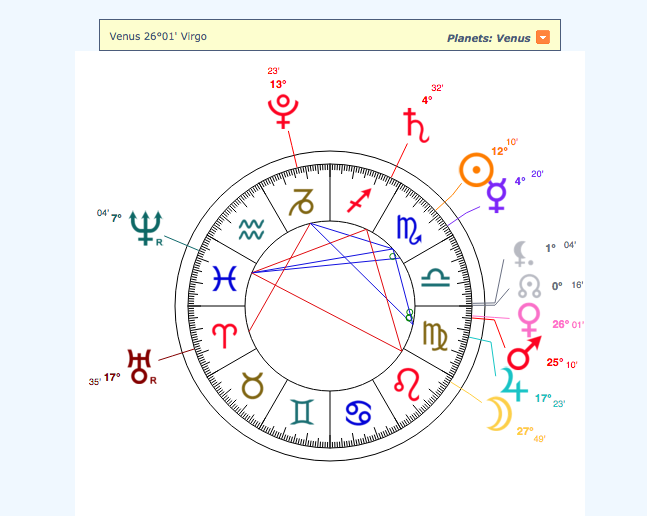 Richard Burdick's astrology chart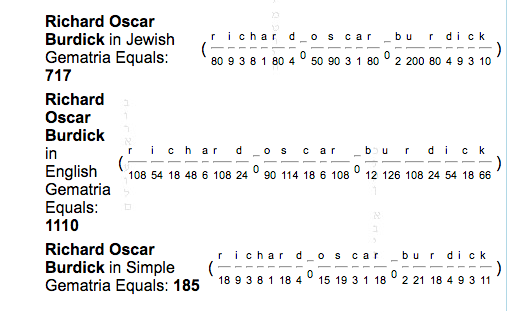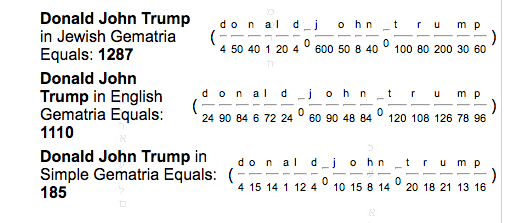 Gematria is a numerological system by which Hebrew letters correspond to numbers. This system, developed by practitioners of Kabbalah (Jewish mysticism), derived from Greek influence and became a tool for interpreting biblical texts.

Richard Burdick's psodnyms are:
Jessica Pisces
&
Ali Oxenfreigh