CD36
Classical Natural Horn Music by Duvernoy & Schneider

Beautiful authentic practice classical era natural horn music, for horn trio and duo.
A very popular style of music in Beethoven's lifetime.
Frederic Nicolas Duvernoy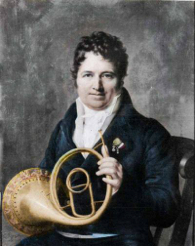 Frédéric Duvernoy, also Duvernois, was 
 born at Montbéhard, most likely on October 16, 1756 and died in Paris on July 19, 1838. He was a horn player, composer, and teacher.
He studied horn and composition without a 
teacher, and was the first major figure in the French school of horn 
playing. He was probably the first to turn away from the practice of
 dividing horn players into two distinct categories, cor alto and cor basse. Specializing in the middle register, he created a third category, the cor mixe, a technique which he brought to a high standard. His playing and teaChing marked the definitive break from the Austro-Bohemian tradition.
His first documented performance was a horn concerto in the Concert Spiritual, August 6, 1788, He worked for several orchestras (Comedie-Italienne, Opera-Comique, Garde National, Paris Opera) before being appointed to Napoleon Bonaparte's Chapelle Musique (Imperial Chapel), a private band, as first horn, a position he held until 1830. Napoleon is said to have been a great admirer of Duvemoy. He retained an equivalent of this position under Louis XVII and Charles X until the 1830 Revolution.
In 1795, Duvernoy was named senior professor of horn at the 
newly-formed Paris Conservatoire. In 1802 he published his Méthode pour le Cor, it is from this that his duets and trio we taken for this recording.
Georg Abraham Schneider



Georg Abraham Schneider
was born in a small village near Darmstadt
on April 19, 177.
He played horn for the Court Chapel in Berlin
Track

CD36 – Classical Natural Horn Music by Duvernoy & Schneider

Duration

18 Trios for Three Horns, Op. 56 . . . . . . . . . . . . . . . . . . . . . . . . . . . . . . . . . . . . . . .Georg A. Schneider

 
26:02

1

          I.Adagio

2:51

2

          II.Allegro

0:58

3

          III. Allegretto

1:00

4

          IV. Menuetto

1:43

5

          V. Allegretto

1:27

6

          VI. Arioso

1:27

7

          VII. Fanfare

1:52

8

          VIII. Menuetto

1:11

9

          IX. Allegro

0:58

10

          X. Allegro

2:13

11

          XI. Adagio

1:42

12

          XII. Allegro (chase)

1:13

13

          XIII. Adagio

2:11

14

          XIV. Allegro

0:48

15

          XV. Menuetto

0:54

16

          XVI. Rondo

1:03

17

          XVII. Allegretto

1:26

18

          XVIII. Allegro

1:03

Twenty Duets from "Method for Horn"  . . . . . . . . . . . . . . . . . . . . . . . . . . . . . . . . . Frederic Duvernoy

34:04

19

          I. Pastorale

1:27

20

          II. Allegro

0:45

21

          III. Adagio

2:06

22

          IV. Allemande

1:02

23

          V. Andante

1:34

24

          VI. Grazioso

1:24

25

          VII. Polonaise

1:11

26

          VIII. (unnamed)

0:45

27

          IX. Adagio

1:46

28

          X. Allegro

 2:41

29

          XI. Adagio

2:01

30

          XII. Presto

1:19

31

          XIII. Andantino

1:19

32

          XIV. Andantino

1:54

33

          XV. Allegro

1:26

34

          XVI. Adagio

2:38

35

          XVII. Andante

2:38

36

          XVIII. Minuetto

3:27

37

          XIX. Prestissimo

1:19

38

          XX. Allegretto

2:02

Four Trios from "Method for Horn"  . . . . . . . . . . . . . . . . . . . . . . . . . . . . . . . . . . . . Frederic Duvernoy

9:51

39

          I. Polonaises; Allegretto

1:18

40

          II. Adagio

2:12

41

          III. Adagio - Allegro

2:14

42

          IV. Theme con Variazioni

4:07

Total time:

71:15
CD36 - Release date: September 20, 2015