CD21
Beyond Favorites

four centuries of great music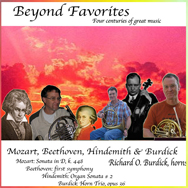 Burdick: Horn trio, opus 36
Hindemith: 2nd Organ Sonata
Mozart: Sonata for Two Pianos in D major K 448
Beethoven: Symphony No. 1, Op. 21
$11.50 Including Shipping

A multi-track-horn-choir-recording

This CD has been some of the hardest work I have ever done. This recording was started in August 2007 and not finished until March of 2008. The Beethoven was recorded with my Dürk D3 valve horn tuned to A=432, which was a bit of a stretch for the horn and I.

The idea behind this CD is a continuation of my Favorites album, but these works are overall less popular than the Barber, Grieg, and Bach that I recorded last year.

I enjoy this art form very much; a solo artist recording all parts via the miracle of modern recording programs. I love playing my horn and try very hard to stay in shape and hope to keep improving at my art. Since a track can be recorded over and over until it is as good as one can get, this is essentially what this form is about. I am playing very hard music; written lower, higher, faster and more flexibly than a horn is ever asked to play in standard orchestra literature. This work challenges me. I have grown "beyond Favorites."

Tone quality was a big issue for me this year, it wasn't until I recorded the slow movement of the Hindemith in late November 2007 that I felt I had my tone back after a hard music festival in August. The Beethoven was a struggle with tone quality and with the low pitch, My dream of other Beethoven Symphonies with this ensemble and low pitch will have to wait.

The big success of my "Favorites" album with my success at huge tonal contrasts with the same horn equipment has fallen a little short this time. But, the musicality is a little better, and the there are an equal number of stratospheric tones on this CD, and my practice is showing, because my tone quality is improving in the soprano range.

I recorded the Beethoven first. It was a painfully slow process. I read from an old two-piano reduction that I got in a stack of music via eBay. I was lucky to produce 30 seconds of final product in my usual three-hour afternoon session. It took months. The rest of the CD is recorded at modern (A = 440) pitch, I felt the low pitch valve horn work was a good experiment; my horn is not made to go that low. I am still very interested in the low pitch. It's the correct pitch for about the 1850's, but it is also a mystical number, more in tune with the human psyche, and suggests a simplification of the mathematics of tuning.

I then followed with the Mozart sonata for two pianos. With this piece, I do feel smarter! This was much easier to read, but again I was challenged by super fast music in every range. It's a nice work & I think it works well for horn ensemble. While working on the Mozart, it occurred to me that this CD could be "four centuries of great music." The Beethoven symphony premiered in 1800, which in fact may still be part of the 17th Century, and my piece was written in 1986, with just a few revisions that I made while recording it in early March 2008, so the title "four centuries of great music" isn't quite accurate, but still descriptive of the music.

The Hindemith was chosen as the representative 20th Century work. I recorded both the 2nd and 3rd organ sonatas and found that 2nd one from 1937 to be a fantastic work. I can listen to it over and over, and I still love it, while the Mozart, and Beethoven are nice, the Hindemith is great!

For my piece I originally recorded my opus 134 "flowering love fallings" for two horns and tubular bells, which was a struggle for me every time I listened. I am please with the work on an intellectual level, but it didn't grow on me. Early this year when I found my Horn trio, opus 36 had never been performed or even copied into the computer, I started working on that, and this work does fit the bill: a work that gets better with each hearing, and a work that I feel could be more expressive with each performance.

This recording took eight months.

In gratitude,
Richard Burdick
$11.50 Including Shipping