The solo performances of Richard Burdick
Solo 130
US Première of VISTA I at IHS 44 Symposium in Denton , TX
Richard Performed a special Version of his Vistas, With a sample version of Vista IV (Like a allegro first movement 2 minutes), Vista III (slow), Vista II (Minuet) And the complete Vista I - almost exactly 15 minutes long.
This version call be requested for special performance
Wednesday, May 15 2012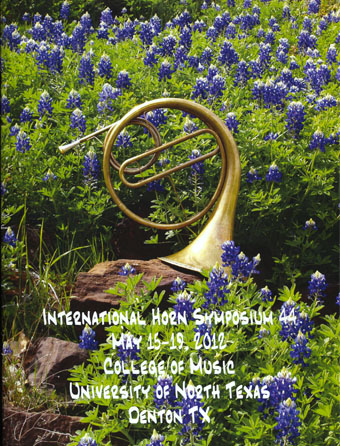 This is the program from the May 16th Major concert with autographs of every major participant:
Barry Tuckwell conducting.
David Thompson and Zach Glavan in Haydn.
Tsun Tak Cheung in Mozart.
Gail Williams in Stephenson with Stephenson signing.
Gregory Hustis, Joseph Ognibene, John Q. Ericson And Randy Gardner in Schumann.