The musical compositions of Richard Burdick
Infinite for solo Horn (alone)
Written for the chamber music night at the Music from Bear Valley Festival in August 1995, this work premiered in Davis April 16, 1996 with the composer on horn.
This can be heard on the CD: Richard Burdick with tape CD 6
Performances: Premiere 4/16/96 Unitarian Church in Davis
4/22/96 Trinity Chapel Berkeley
12/27/97 Trinity Chapel
12/28/97 Unitarian Church of Davis
This work is similar to the main movement of my opus 91 Night Hawk for trumpet and organ. I wrote it as if it were for solo horn with tape loop delay. Instead what I have done is plotted out the solo horn part plus three echoes and given the solo player all attacks generated by the four part fugue. I used grace notes when ever two notes would have happen at once, dynamic contrasts help define the echoes.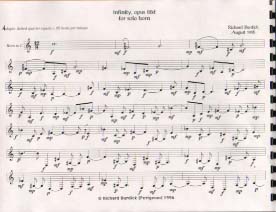 This work can be found at the Canadian Music Center Libraries
This work is registered with ASCAP
the ASCAP work ID is: 390562506