The musical compositions of Richard Burdick
Follow on Twitter
Opus 20
The Pivot Point
For 2 clarinets, 2 horns,
2 bassoons and snare drum
1983 rev. 1995
As part of my series of music from
(for) the Circle Wind Octet.
(Trinity Chamber Concerts series
performance in 1986 ? )
This work was inspired by an attempt to warp out of faze and warp back in.
The revised version, although somewhat dissonant, has very nice shapes to it. It has nice use of inverted rhythms, syncopations & half time sections.
It's acually a fun little piece.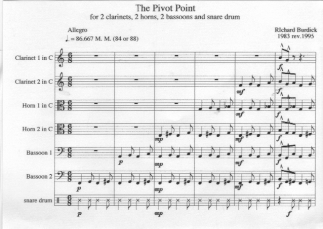 Buy the sheet music from musicaNeo