The musical compositions of Richard Burdick
Follow on Twitter
Opus 155b
September Summer, 2013
for flute, clarinet and horn
(Friday 13, September 2013)
This work was revised and completed in September 2013; here in Regina, SK Canada. We are having the most beautiful weather. It what I would hope for year round, but it's September, which I seldom think of as a summer month; thus the title.
Construction:
This work is not an I Ching Scale based work. In my I Ching scale works, I usually limit myself to only the seven or eight tones of the scale. When I allow myself the freedom of no key, I enjoy not being in any key very much. Part of the playfulness of this work is it free flowing tonality.
I started with a happy and flashy motif in a pentatonic scale, and developed this work freely letting it float around where it wanted to go.
Movement two is based on the melody that is created from the polyphony of movement one measure seven through fifteen.
Movement three is a joyous presentation of the "emergent melody" from movement one measures twenty-five and twenty-six. The movement gets to the point where I didn't want to decide what key to be in, and I think that's okay.
Buy this sheet music from MusicaNeo $12.50
Buy a download of the score and parts (sent by e-mail) $10
Buy a printed version sent by mail $25  
This work is registered with ASCAP
the ASCAP work ID is: xxxxx
Hear this on youtube:
Movement one
page one

Movement two
page one

Movement three
page one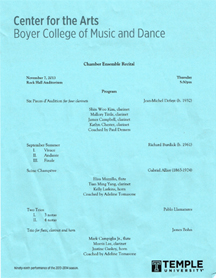 Program from the premiere. Thank you to Adeline Tomasone who coached the trio for the premiere @ Boyer College of Music and Dance. Part of Temple University.
The premiere took place Nov 7, 2013 with Elisa Muzzillo, flute; Tian Ming Yang, clarinet and elly Larkins, horn
Buy the sheet music from musicneo
Buy a download of the score and parts (sent by e-mail)
Both pieces, score and parts $20.
Buy a printed version sent by mail $30  
This work is registered with ASCAP
the ASCAP work ID is: xxxxx