The musical compositions of Richard Burdick
Follow on Twitter
Opus 139
More than Sixty-Four Solos
for horn

More than Sixty-Four Solos for horn
Based on Richard Burdick's I Ching Scales
Written in the Fall & Winter 2003-4
In Regina, Saskatchewan, Canada
By Richard Burdick, Opus 139
These solos are in the form and or style of Fantasies
My scales based on the patterns of the I Ching have now gone through four revisions; this work and my horn duets opus 132 are the most important works using the second revision of the scales.
This work is intended as very advanced etudes or as recital/concert pieces, or even music to replace some of the standard orchestra; excerpts for auditions. My goal was for 64 different piece all contrasting.
These were written during my first winter in Canada; really the first winter I ever experienced, since I grew up in California without snow. This is also before I build my own recording studio, which was a significant change in my life. For these solos, I didn't write without an instrument in front of me as I usually do. I sat in front of the TV set with a practice mute in my horn and pillows around me. I improvised on my scales writing these solos down from the improvisations. Slowly working through about ten solos at a time adding a little each day.
Other horn players have used these as sight-reading practice. I hope they become an important part of college recitals.
Richard O. Burdick
The sheet music is available from MusicaNeo.com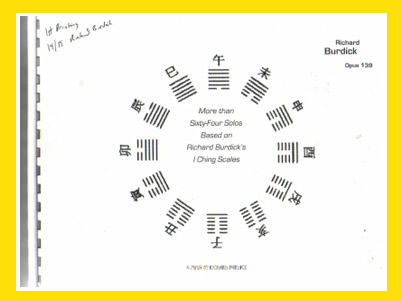 fix arrow links