I Ching scales
an overview of the five versions
Take the
Tour
I Ching scales
an overview of the five versions
The fifth period
Is a reworking (correction) of the relationship of the scales to the Shau Yung Circle, and a standardization the ALL scales have a fifth separating the Treegrams.
The fourth period
These scales have virtually NOT been explored. They were the version three scales in equal temperament, which really don't work.
---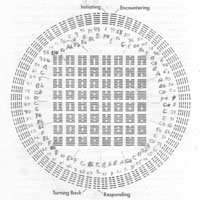 The third period
Includes the eight major scales and the 56 minor scales
It has a way to view the system in a very natural micro-tonal way or in a way that will fit with equal temperament.
---

Second period
I use the same relationship of line to half or whole step but most of the trigrams are separated by a fifth.
This was transitioned in around opus 77 and I may still be using these for equal temperament pieces.
---

First period scales etc. (the old pages)
In the first period, or method of organizing tones in relationship to the I Ching, I use the solid lines as whole steps and the broken lines as half steps & I don't separate the hexagrams by the interval of the fifth.
This type of scale is used from about opus 17 to opus 77.