Richard Burdick's
Running Biography
(Just keeping track of what and when:)
FALL 2017
CD42 I sound My Horn releases December 12, 2017
SPRING 2017
I recorded a video with my Wagner Tuba (May 10, 2017):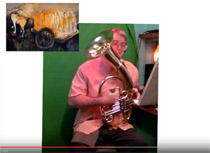 Opus 231 The Woodpecker was completed April 16, 2016
Mr. Burdick performed Strauss's Horn Concerto No. 2 with the Regina Symphony Orchestra on April 8, 2017
WINTER 2017


Sunrise March 17, 2017 in Regina with a temperature of -18C or +2F
(click on the photo to see bigger size, then use your back arrow)
The Quartetto for clarinet, eb horn (natural horn), viola and cello by Carl Stamitz is now published
Fall 2016
CD41 "American Horn Music vol. 2" released Oct. 27 2016
CD40 "Retrospective II Horn Quartets No's 1 - 5 released Sept. 9, 2016
Summer 2016
Received a really nice note about my performance in the show "Cinderella" this August. "Thank you Richard your majestic playing has coloured this production with grandeur!"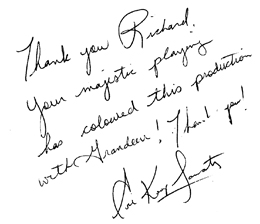 CD39 "Bach by Popular Demand" is being release August 3rd, 2016 - A Squeal to CD15 Bach Easter Oratorio and my Favorites album - CD17.
Winter 2016
I am please to announce that the Demo of my work "Wizard of OZ (1910) for chamber orchestra with film" is now online. The premiere will be in April.
I seem to get one composition (new or old) completed with published score and demo video a week. This week (Feb 6, 2016): Chamber Symphony No. 11, Op. 220

My Microtonal work: I Ching Base Tones, Op. 176a is up on youtube. There is an interview style introduction and the long video.
Thanks to the Regina Symphony Chamber Players for the Premiere of my Octet Variations, Op. 234 January 16 & 17, 2016.
Fall 2015
CD38 released Dec. 5th, 2015: Matthew Locke's Broken and Flatte Consorts performed on three horns with Finke Triple horn
The
demo
of my
"Little Symphony", Op. 223
for for orchestra.
8:15 great "Canadian Content"!
CD37 Microtonal music of Richard Burdick
Opus 16, Polaris Overture revision and demo are done.
Sept. 26 & 27 two performances of the Telemann Horn concerto on the Regina Symphonies Government House series.(on my classical-natural-horn) see list: of solos and concerti.
Summer 2015
CD36 Classical Natural Horn Music By Duvernoy & Schneider
is released September 20, 2015 on CdBaby
June 2015 - all ten of my Chamber Symphonies are published and available to be heard in demo's on youtube.
Winter (early 2015)
I have added five new demo's of my compositions to my youtube channel so far this year: Winter playlist.
Summer 2014
In anticipation for a few new CD releases, I have put ALL my Cd's on sale through CdBaby. All Cd's are now $5.00 each for physical or digital copies
Church doors
Winter 2013-14
My newest composition: Icy Lots, Op. 208 for Clarinet, Horn, Piano, Marimba and Vibraphone Demo is available to enjoy!

Mid-December 2013, completed my "Star" window hanging sculpture, I may add more refracting spheres . . . so I get more rainbows in the morning light.
Fall 2013
Nov. 30, 2013 I have been working on demo versions of my duets.
I have a few now in demo-video on youtube:
Duet No. 1 for clarinet and horn, Op. 35
Duo "The Holy Fountain" for horn and double bass, Op. 54
Suite in D for violin and horn, Op. 72
Thank you to Adeline Tomasone who coached the trio for the premiere of my "September Summer 2013, Op. 155b" @ Boyer College of Music and Dance. Part of Temple University. The premiere took place Nov 7, 2013 with Elisa Muzzillo, flute; Tian Ming Yang, clarinet and Kelly Larkins, horn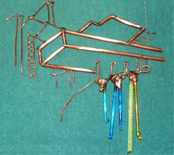 Mid-November 2013, completed my "Waterfall House" window hanging sculpture
October 22, Proud of my boys! (Be Open Mindid!)

October 21, I have recorded the piece "Autumn '13" by Ian MacDonald for four natural horns, Check out the recording and a free download.

October 19 & 20 Mozart Horn quintet on natural horn went
very well this week-end, It was a great pleasure to be working with Van Armenian, our guest concertmaster from Montreal
Oct. 6, 2013 celebrating exactly ten years in Canada! I won the first Horn job for Regina Symphony Orchestra in August 2003
Oct. 2, completed the sample recording of QuadRhumba I & II, Op. 76
Sept. 26, the final copy of "The Peacock" Op. 82 for Flute, Vibraphone, horn and bass is done and posted to youtube.
My Horn Rondo, Op. 199b Premiered Monday September 23, 2013 as part of the Regina Symphony Orchestra Chamber Players School concert. There should be over 30 performance of this little piece this year.
Summer 2013
Sept. 13, completed the revision and recorded a version of Opus155b
Sept. 11, Recorded Coscia Duet No. 3 and was interviewed for a concert review in the Moose Jaw Newspaper.
Sept. 8th 2013, Completed my Spiral Prism window hanger. Copper tubes and wire with glass rods and three glass prisms.
Sept. 6th 2013, Recorded Bernard Heiden Cannons for two horns No. 2 & Coscia Duet No. 1 RSOCP performed in Moose Jaw
Sept. 5th 2013, Recorded Bernard Heiden Cannons for two horns No. 3 rehearse my Horn Rondo with the RSOCP and completed my 'cleanex box" box

Sept. 4th 2013, Recorded Bernard Heiden Cannons for two horns No. 4 & 5
Sept. 3rd 2013, Recorded Bernard Heiden Cannon for two horns No. 1
August 31, we are almost done with new fence in the backya

rd. I wrote the solo for RSOCP school concerts last week. I am working on the Hovhaness interview.
My first prism window hanger is also done!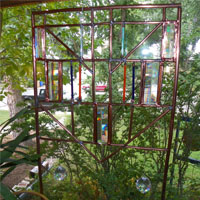 August 8, 2013, Recorded Op. 205 pt. 33
August 9, 2013, Stained test fence section, put copper on

the front of my mushroom box. Bought the Cat ash tray from Thailand and two nice pillows.

August 10, 2013, Worked on website, mushroom box and Gong Hanger for the front yard. The Gong is a 55 pound gas pipe cover.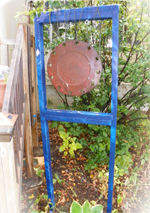 June 2013 my favorite thrift store find from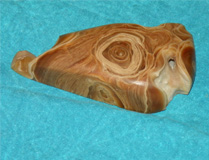 Auburn California a polished rock labeled "Carlsbad Caverns N.M
May 2013: On my family vacation to Washington D. C. I saw two pieces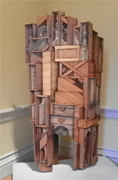 of art that I loved. They were opposites in a way. A painting

that had a round raised section and a cabinet that looked like a pile of boxes, but which was actually flat; made of wood inlay!
ex."